Wine in Karnataka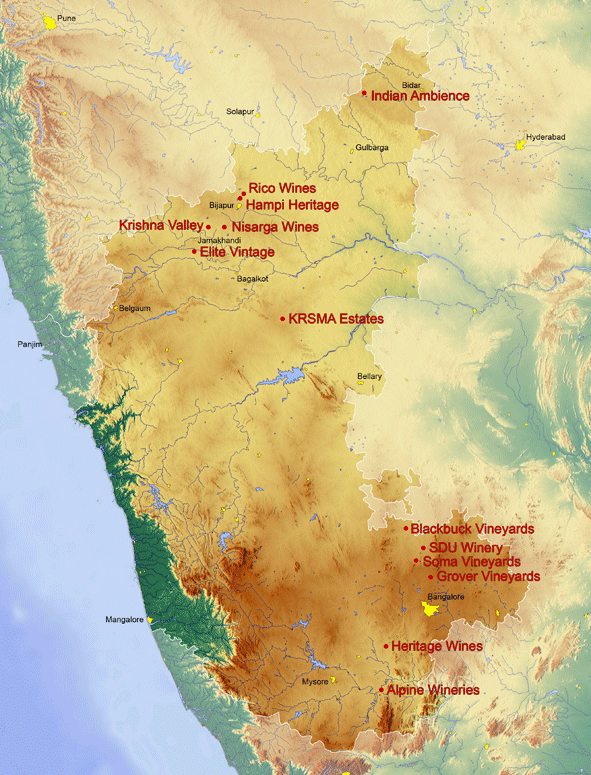 Wineries by District
Elite Vintage Winery
Winery
Sy. No. - 13A,
Jamakhandi Road,
Mudhol - 587313,
Dist. - Bagalkot,
Karnataka, India.
Phone: +91 8350 202 244
Email: info@elitevintagewinery.com
Website: www.elitevintagewinery.com
Wines: Cabernet Shiraz, Shiraz, Cabernet Sauvignon, Sauvignon Blanc
Season Vineyards, Krishna Valley Vineyard Pvt., Ltd.,
Winery & Vineyard:
# 2271/1, Rudragoudar Farm,
Savalagi Road, Todalabagi Village,
Jamakhandi Taluk, Bagalkot District.
Office
# 35/38, Dr. Rajkumar Road,
4th `N' Block, Rajajinagar, Bangalore-10.
080-23423040
+91 99804 02784,
080- 23459377,
Fax: 080-23459388
Ph-08354-252024
seasonwine@gmail.com
rajashekar@seasonwine.com
seasonwine.com
Wines: Cabernet Sauvignon, Shiraz, Shiraz Zifandel Rose, Sauvignon Blanc, zinfandel - Merlot - Cabernet sauvignon - Shiraz blend
Dada Winery,
Winery
Bedkihal, Chikkodi,
Belgaum.
+91 9731979157
dwinerydada@rediff.com
Nectar Winery Pvt., Ltd.,
Winery
Bijapur Road, Athani Taluk, Belgaum District
+91 9901449260
guruandanimatha@rediffmail.com
Myra Vineyards
Winery
A division of ABS Vintners Pvt. Ltd.
27, Victoria Road,
Bangalore - 560047
Email: info@myravineyards.com
Website: myravineyards.com
Wines: Sauvignon Blanc, Chenin Blanc, Shiraz, Cabernet Sauvignon
Indian Ambience Vineyards
Winery
NH-9, Tadola
Basavakalyan Taluk, Bidar
Sanjeev Kumar Wadekar
Phone: +91 94481 02825
Email: indianambience@gmail.com
Wines: Shiraz Merlot, Cabernet Sauvignon, Cabernet Shiraz, Rose, Shiraz, Chenin Blanc, Sauvignon Blanc
more addresses:
Yanna Winery Indian Ambience Winery Pvt, Ltd.,
NH-9, Tadola, Basavakalyan Taluk, Bidar.
+91 9008356356
9945651389
keshappabiradar@gmail.com
sales.indianambience@gmail.com
Hampi Heritage Vineyards Pvt.Ltd,
Winery
Bhootanahal
Bijapur
Phone: +91 94481 32477
Email: info@hampiheritage.com / sales@hampiheritage.com
Website : www.hampiheritage.com
Wines: Sauvigon Blanc, Shiraz, Shiraz rose, Sauvigon Chenin Blanc, Cabernet Shiraz
Rico Winery Pvt, Ltd.,
Winery
Winery: Bijapur-Solapur Highway (NH-13),
Kannal Post, Tq-Dist: Bijapur-586119
Office:
Aishwarya, G-2, #38,
Rest House Crescent Road,
Bangalore-01.
Tel: 080 41140532
Fax: +91 9741414048
basu.giri@gmail.com
reach@ricowines.com
Web: ricowines.com
Wines: Shiraz, Cabernet Sauvignon, Cabernet Shiraz, Sauvignon Blanc, Chenin Blanc
Nisarga Vineyard Pvt., Ltd.,
Winery
Davalagi Building, Lingaraju Colony,
Near Ring Road, Jamkhandi Road,
Bijapur - 586 102
+91 9448716864
+91 9632057994
robinsomaiah@gmail.com
santoshrajaan@yahoo.co.in
nisargadjp@gmail.com
Nandi Valley winery Pvt. Ltd.
Winery
Survey No. 55/56, Nagadanasahalli Village,
Thimmanayakanahalli Post,
Yelahanka, Hobli,
Bangalore -560064
Email: customercare@kinvah.com
Web: www.kinvah.com (online shop)
Office
Nandi Valley Winery Pvt. Ltd.
3rd Floor, #41, Blue Valley Celestial
Nandidurga Road, Benson Town Post
Jaymahal Extn.
Bangalore - 560046
Tel: 080-2353 5581/82
Fax: 080- 2333 9046
Customer Care: 888 0088 800
Wines: Cabernet Shiraz, Manthan, Shiraz, Sauvignon Blanc, Sauvignon Chenin White, Fizzo Sparkling Wine
SDU Winery Pvt., Ltd.,
Winery Winery
# 644/645/646, Alkapura Village,
Thondebhavi Hobli, Gowribidanur District,
Karnataka-561208.
+91 8155329296
+91 8277397610
+91 9738494758
royar@sduwinery.com
umeish@sduwinery.com
www.sduwinery.com
Office
1/23, Raja mansion,
12th cross, Malleshwaram Swimming pool Extension,
Bangalore-03.
080-23564492/
23444574
Wines: Cabernet Sauvignon, Syrah, Chardonnay
Bangalore Soma Vineyards
La Terra Winery,
Winery
116-7, Saragundlu, Namagondlu P.O,
Gauribidanur Tq. Chikkaballapura Dist
+91 9535445287
ravisusarla@laterrawinery.com
Grover Zampa
Winery
401 Arcadia , NCPA Lane
Nariman Point
Mumbai, Maharashtra
Email: info@groverzampa.in
Web: groverzampa.in
Wines: Carbernet, Shiraz, Zinfandel, Tempranillo, Shiraz
Wine yards: Nandi Hills, Sanjegaon near Nashik Maharashtra
KRSMA Estates Pvt., Ltd.,
Winery
Sy.No: 24/1/3, Julakunta Village,
Tavaragere Post, Kustagi Tq.,
Koppal District, Karnataka - 584 131
Phone: 08536 275260
Handy?: +91 9849032881
Email: mail@krsmaestates.com
Email?: uma@krsmawineries.com
krsmaestates.com
Wines: Cabernet Sauvignon, Sangiovese, Sauvignon Blanc, Chardonnay
Map: wikimapia, 70km east from Gadag
Alpine Wineries Pvt. Ltd
Winery
Survey No. 698 & 699,
Holesalu Village, Kaveripura Post,
Talakadu Hobli,
T. Narasipura Taluk,
Mysore District - 571124,
Office
#33/1, Sapthagiri Arcade, 2nd Floor,
8th Cross, H. Siddaiah Road,
Wilson Garden,
Bangalore - 560027,
Phone: +91 802 2270 897
Fax: +91 802 2219 661
Email: info@alpinewineries.com
Website: alpinewineries.com/alpine
Wines: Shiraz, Cabernet Shiraz, Sauvignon Blanc
Heritage Grape Winery Pvt., Ltd.,
Winery
Winery: #115/86, Gangedoddi Village,
Chekkere Post, Malur (H), Channapatna Taluk (T),
Ramanagar Dist.,
Corporate Office
Manish Mansion,
# 18, 2nd floor, 3rd Main, N.R. Colony,
Bangalore-19.
+91 9945099999
080-26602667,
Fax: 080-26602668,
+91 9008000656
heritage_blr@hotmail.com
www.heritagewinery.in
Wines: Cabernet Red, Shiraz, Chenin Blanc, Bangalore Blue Grape
Krishnamruga Winery
Winery
Blackbuck Wineyards
Maidenahalli - 572127
Madhugiri Taluk, Tumkur District
Office
# 67, Telecom Layout,
Behind Tennis Village, Kodigehalli,
Thindlu Main Road, Bangalore-97
+91 9900075435
+91 9900075439
khkrishnareddy@gmail.com
kr@blackbuckwine.com
www.blackbuckwine.com
Wines: Cabernet Sauvignon, Cabernet Shiraz, Shiraz, Shiraz Rose, Viognier
Our Favorites
DEVA Syrah from SDU Winery
DEVA Syrah from SDU Winery is our favorite so far, my wife really likes its taste. It is reasonably priced and also available in smaller 3.75dl bottles.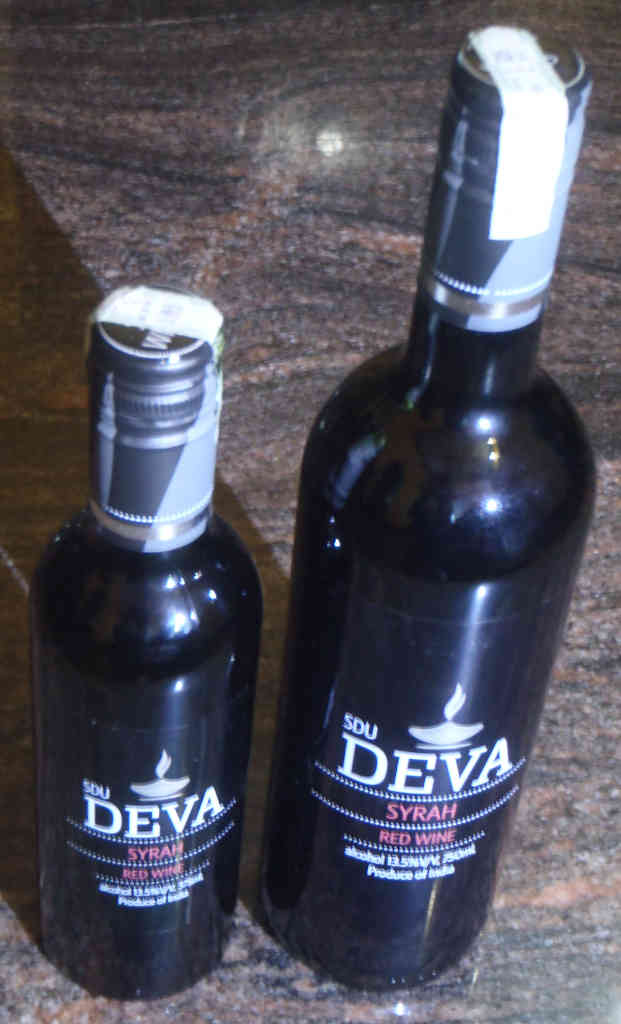 Santé Shiraz from Grover Zampa
Links